With a rich history, breathtaking architecture and vibrant communities found throughout the city, Budapest has become one of the most popular tourist destination with people visiting the city from all around the world. However Budapest is more than just a city that you can look at. On the weekends you can truly experience it. Hosted at the beautiful and historic Széchenyi Thermal Bath, Sparty offers an extraordinary fusion of relaxation, partying, and cultural immersion that will leave you with memories to cherish for a lifetime. Whether you're a local seeking an exciting escape or a traveler exploring Budapest for the first time, Sparty is the perfect destination to spend a weekend filled with excitement, rejuvenation, and non-stop fun.
Imagine stepping into an opulent thermal bath complex, where historical and modern elements seamlessly blend. Now, add pulsating music, dazzling lights, and a vibrant atmosphere. That's Sparty! Budapest's thermal baths, already renowned for their therapeutic properties, are transformed into an otherworldly party venue. The moment you enter a Sparty, you'll be greeted by an electric atmosphere that sets the tone for the night. The combination of stunning architecture, dimmed lights, and state-of-the-art sound systems creates an ambiance that is both energizing and mesmerizing. The buzz of anticipation fills the air as partygoers from around the world come together to celebrate life in a truly unique setting.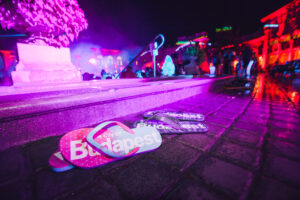 Sparty has become an iconic part of Budapest's nightlife, offering an experience that seamlessly combines relaxation, partying, and cultural heritage. It's a magical journey that takes you from the centuries-old traditions of Budapest's thermal baths to the pulsating beats and lively atmosphere of an unforgettable party. Whether you're seeking a unique way to celebrate a special occasion such as bachelor or bachelorette parties, even birthday parties or simply want to get away and to immerse yourself in Budapest's vibrant nightlife scene, Sparty is an experience that should not be missed. Get ready to dance, soak, and create memories that will last a lifetime in the captivating city of Budapest.