Hungary has a difficult history with communism. The effects of history are still felt in Budapest and the in the whole country. It was a different time, that now seems out of place. But it can still be experienced through local establishments. 
Bambi Eszpresszó is a place like this. Opened in the last century, it still retains its authentic decor. A neighborhood bar and bistro that is able to show patrons how people in the past enjoyed a night out in the town. The chairs still have their iconic red, faux-leather chairs. Even the staff are wearing era appropriate uniforms.
While it is a bar, it has a few food items for everyone. The most popular dishes are frankfurters, scrambled eggs and toasted sandwiches. They even offer Hungarian pastries. The locals also frequent the bar, as it has wallet-friendly prices.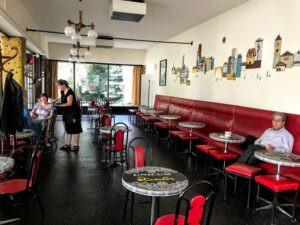 It gets lively most evenings, but has a nice allure even in the mornings.