Every corner of Budapest's downtown is able to show something unique for the people who come to visit this city. A Michelin starred restaurant portrays its cuisine in an extraordinary way. One such restaurant is Borkonyha. The Hungarian dishes on its menu are simple, yet their preparation is the true attraction. Right next to fois gras and mangalica dishes they have fish and even noodle on the menu.
As the name suggests, it is not simply a restaurant. Borkonyha's other specialty is wine. They even have a selection of 200 different wines with most sourced from the most famous Hungarian regions. Here you can taste them and even bring home a bottle or two.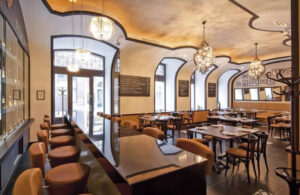 Everything suggest it would be casual fine dining establishment, and the prices definitely suggest that. Some of the main courses cost around €30 which makes it one of the most expensive in the city. But its bistro-like feeling still attracts a lot of tourists and locals alike. If you would like to experience Borkonyha, a reservation is a must.