Sometimes, you have to look at a city through a local's eye. They know the city better than some tourist guides. One such favorite local place is Ibolya Espresso. In the heart of Budapest, this little bar has been entertaining locals since 1968. Being open for so long, it has shared its history with the city itself. For the people of Budapest it is a fond place. Many have had their first dates, first college outings over a drink at Ibolya. 
While opened during the communist times, it has a comforting reflection. Even the light fixtures look like from the last century.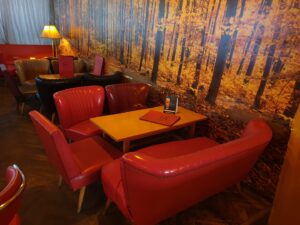 Besides drinks, you can grab a couple of bites at affordable prices while watching some sporting events on the screens. In downtown it is one of the best place to mingle with some friendly Hungarians.