Ruin bars are a staple of the Budapest. They are found all around the city, offering a great night out. KEG Sörművház is one such ruin bar and more. Found outside of downtown in the Újbuda neighborhood. A nice little place in a basement of a brick house for people who would like a different experience from a busy downtown. The specialties of KEG are its 32 different types of beers. Most are craft beers coming from local breweries. A heaven for those who like to drink beer.
You can also order some food here. Its rotating menu always have something interesting for everyone. However their soups are the best here.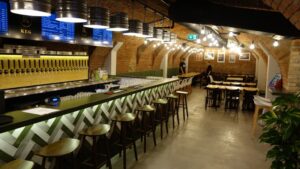 With low prices KEG Sörművház is a favorite spot for tourists and locals alike. You can even strike up a conversation with some friendly Hungarians.