The Danube splits the city in half into Buda and Pest. The two parts are vastly different. Buda is the calmer side, while Pest is the busier part of the city. However in between of the two is Margaret Island. A park, which showcases the best that the city has to offer.
Turning off the Árpád bridge, the entrance is marked by a fountain which turns on at every hour with colorful lights. But the island is much more than a simple park.

On the banks of the river there are many bars and restaurants. Drinks and food coupled with the view of the city. During summer day there are even public events held here. One such attraction is The Margitszigeti Theater where there are a variety of public shows being held.

A specialty of the island is that there is a running path around it. If you need a little exercise the 5300 meters gives a perfect opportunity for that. Especially in a nice weather.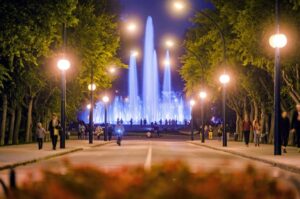 While there are buildings close to the entrance, most of the island's are consists of trees, flower, plants and grass fields. A perfect spot for a picnic or just a simple relaxation.