While Budapest can be a bit of a big city if you want to get around only on foot and while public transport is effective the different lines might be a little bit confusing. However, now there is an easy way to travel around the city in comfort.
The MOL Bubi is a bicycle sharing system is perfect to travel around Pest. Obviously, if you are feeling adventurous you can conquer the rolling hills of Buda as well. With more than 170 docking stations and 1800 bicycles you are bound to find some available just around the corner.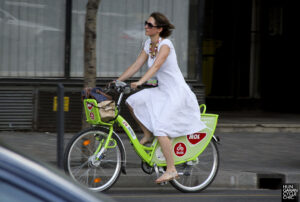 The only thing you need is to download the MOL Bubi app on your smartphone, register and scan the QR code on the bike to be able to ride one. Without Hungarian residence you will only be able to use the "Pay-as-you-go" option, but it still affordable, as a half an hour bike ride only costs about 2-3 Euros.