Coffehouses are an integral part of the history of Budapest. One such coffeehouse is New York Café. In the past it was a favorite meeting place for famous Hungarian journalists, artists, entertainers. You can even read about its significance in the history books.
New York Café was first opened in 1894 which has been open ever since. However in 2006 it was renovated, and now it shines in its former glory.
It is one of the main tourist attractions, and you have to prepare to stand in line, if you want to get in.
As at most coffeehouses, you can order a different varieties of coffee and Hungarian dessert dishes, but they also offer dishes of the Hungarian cuisine. They offer full breakfast, lunch and dinner as well.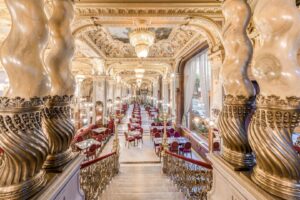 While an important establishment, its price might deter some patrons. A cappuccino can go from  €10 with a mandatory service fee.
In the same building a famed five-star hotel,Anantara New York Palace Budapest Hotel can be found.