Budapest is full of wonderful restaurants worth exploring. However sometimes you need something simpler. The Hungarian cuisine is able to satisfy even the simple tastes. Such as cold cuts, sausages and different pieces of roasted meat are really popular in Hungarian butcher shops.
One butcher shop like this is Pinczi Hús-Hentesáru Bolt. Of course you can shop here like any regular butcher shop, it also serves as a ready-to-eat bistro. You can order a paprika laced roasted sausage with sauerkraut and a slice of bread or even a marinated roasted pork belly to go. The pork belly is one their best dishes, with a crispy outside and a tender meaty inside with a juicy layer of fat.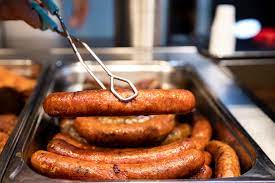 Pinczi has been open for 30 years and has been a premier spot for meat lovers ever since. 
Butcher shops are usually not on many tourists guides, but it would be a waste of a trip if you didn't visit a butcher shop.